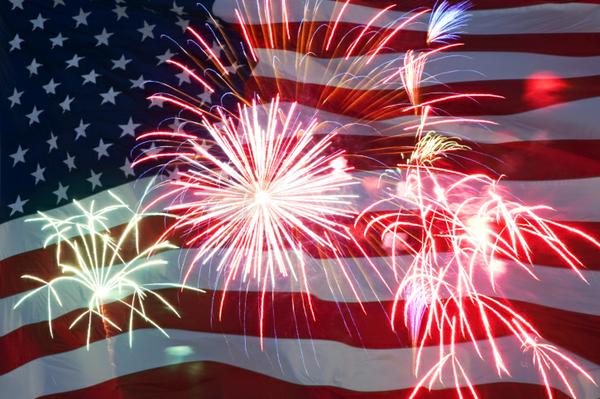 The 4th of July is just around the corner and many people (including myself) plan to spend the week or weekend with family, friends, and loved ones. To make it more festive try these ideas:
Decorate your house with fun red, white and blue themed decorations.  Use 4th of July plates and napkins for the kids meals all week long!
For a red, white, and blue dessert, serve freshly whipped organic cream with organic strawberries and blueberries.
Top your cakes, brownies or pies with berries lined up like an American flag – blueberries for "stars" and sliced strawberries for the "stripes".  See my traditional 4th of July Gluten-Free cake recipe below.
Skip the store-bought sugary popsicles in favor of homemade versions. Pour your favorite fruit-based smoothie into popsicle molds and freeze according to the mold manufacturer's instructions.  You can even freeze fresh fruit like blueberries into a strawberry based smoothie popsicle for a 4th of July theme and/or layer it with yogurt or coconut milk in the mold to get "stripes".
Take your family out to a U-pick farm and pick some fresh fruits to enjoy over the break.  Check out www.pickyourown.org and click on your state and find U-pick farms near you.
4th of July Cake Recipe
1          cup brown rice flour
1          teaspoon baking soda
½         teaspoon baking powder
½         teaspoon cinnamon
½         teaspoon cloves
½         cup coconut oil, melted
1          cup coconut palm sugar, natural sweetener
1          free-range, organic egg
1          cup applesauce
Preheat oven to 300˚F.  In a small bowl, mix brown rice flour, baking soda, baking powder, cinnamon, and cloves; set aside.  In a large mixing bowl mix coconut oil and coconut palm sugar together until blended and then add egg and applesauce and mix well.  Slowly pour the flour mixture into the applesauce mixture and mix completely.  Bake in a well greased 8 X 8 inch Pyrex dish (try using coconut oil) at 300˚F for approximately 35 minutes.
Let cake cool and then frost with cream cheese frosting.  Using blueberries as "stars" and strawberries as "stripes" make an American Flag design on top of the cake and serve!
Cream Cheese Frosting
1          8oz package organic cultured cream cheese
1          stick organic butter
½         cup raw honey
2-3       teaspoons vanilla
Happy 4th of July!